上次採訪東京國際音響展時已經是 2015年的事,事隔四年之後再度安排前往,依然大有所獲,東京國際音響展規模雖然算中等,但是在主辦單位展覽的安排與廠商用心展出下,仍是精彩萬分,入場是免費的,只要填寫基本資料就可換取入場證,在入場證上還有刮刮樂,有機會贏得獎品。每家展出廠商都安排了詳細的行程表,什麼時間會展示什麼系統,會有什麼演講,大會也都整合各家的行程表,供參觀民眾參考,東京國際音響展也是少數不僅「看」音響,還能「聽」音響的高素質展覽。
請點此觀看完整報導: http://www.my-hiend.com/vbb/showthread.php?12733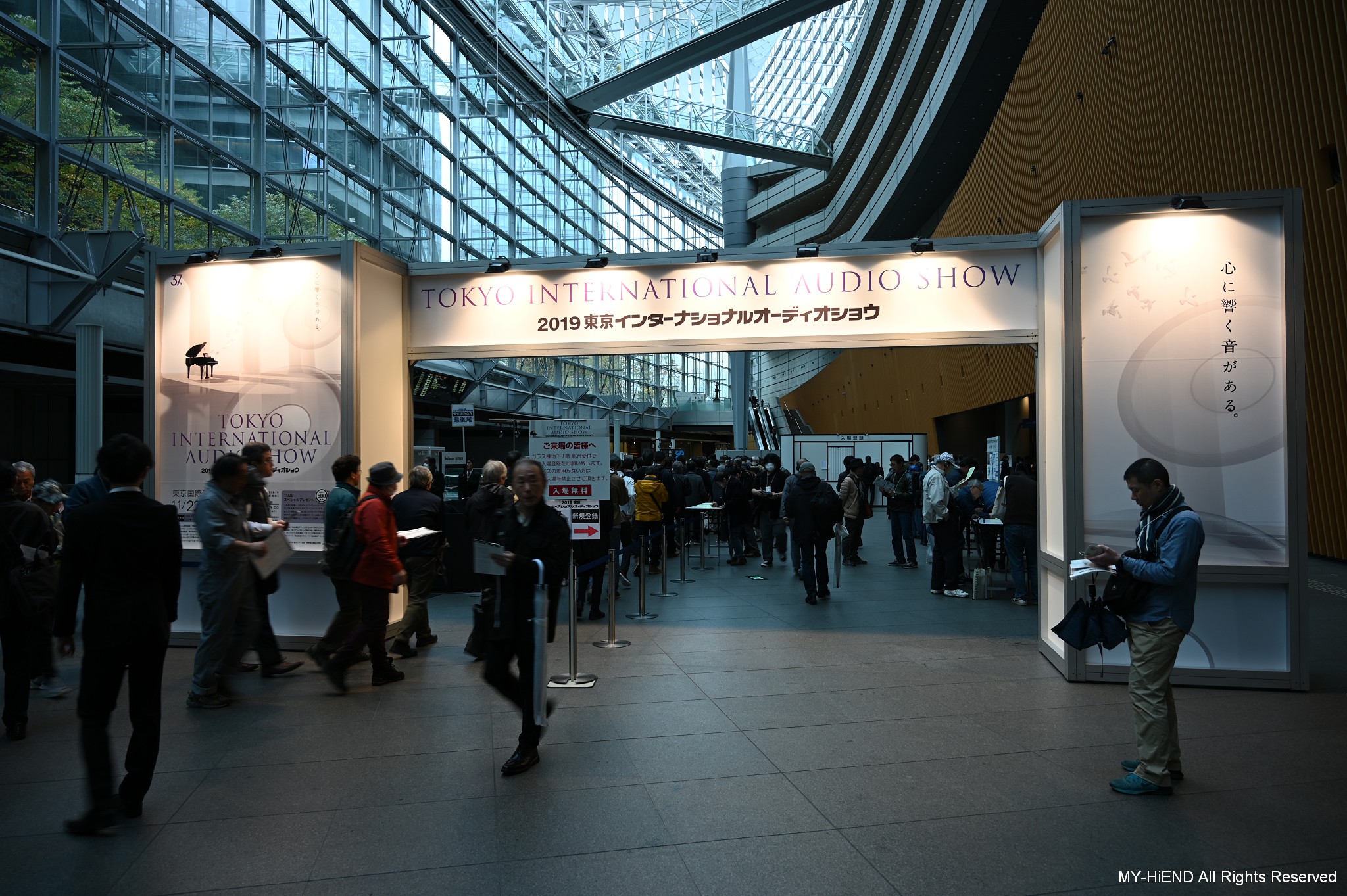 PAGE 01
Tokyo International Forum 入口
G701 株式会社ディーアンドエムホールディングス(デノン)
D&M Holdings Inc. (Denon)
DALI (Denmark) DENON (Japan) KIMBER KABLE (USA) Music Tools (Italy) Pro-Ject(Austria)
G605 株式会社ヤマハミュージックジャパン
Yamaha Music Japan Co., Ltd.
Yamaha (Japan)
G603 G604 株式会社 リンジャパン
Linn Japan Ltd.
LINN (UK)
G602 エソテリック株式会社
ESOTERIC COMPANY
avantgarde acoustic (Germany) ESOTERIC (Japan) TANNOY (UK)
G607 有限会社フューレンコーディネート
Fühlen Coordinate
Aavik Acoustics (Denmark) ansuz (Denmark) Brodmann (Austria) Davone (Denmark)
elipson (France) Fuhlen (Japan) GALLO ACOUSTICS (UK) NuPrime (USA)
OCTAVE AUDIO (Germany) PIEGA (Switzerland) QUADRASPIRE (UK) TRIGON (Germany)
Vifa (Denmark)
PAGE 02
G608 今井商事株式会社
Imai & CO., LTD.
ALR/Jordan (Germany) BC Acoustique (France) CANOR Audio (Slovakia)
Convergent Audio Technology (USA) Densen Audio Technologies (Denmark) JERN (Denmark)
Vitavox (UK) Woo Audio (USA)
G609 アイシン高丘株式会社
AISIN TAKAOKA CO., LTD.
TAOC (Japan)
G610 株式会社太陽インターナショナル
Taiyo International, Inc.
AVALON ACOUSTICS (USA) Brinkmann (Germany) Cardas Audio (USA) dCS (UK)
HRS (USA) JEFF ROWLAND DESIGN GROUP (USA) NAGRA (Switzerland) QRD (USA)
Rockport Technologies (USA) T+A (Germany)
G505 オルトフォンジャパン株式会社
Ortofon Japan Co., Ltd.
Acoustic Solid (Germany) Ortofon (Denmark)
G504 有限会社アッカ
ACCA Inc.
KRELL (USA) ORPHEUS (Switzerland) YG ACOUSTICS (USA)
G502 株式会社エレクトリ
ELECTORI CO., LTD.
Ampzilla (USA) Atacama (UK) EMT (Germany) FirstWatt (USA) HEGEL (Norway)
MAGICO (USA) McIntosh (USA) MERGING (Switzerland) METRONOME (France) Nordost (USA)
PASS (USA) STST(Germany)
G501 株式会社アブサートロン
AVSeartron Corporation
Boulder (USA) KR Audio Electronics (Czech Republic) Straight Wire (USA) Westlake Audio (USA)
G507 株式会社トライオード
Triode Corporation Ltd.
cocktail Audio (Korea) CROSSZONE (Japan) DiDiT High-End (The Netherlands) JUNONE (Japan)
KRONOS (Canada) PSVANE (China) SPENDOR (UK) TRIODE (Japan)
G508 フォスター電機株式会社 フォステクス カンパニー
FOSTEX Company, A division of Foster Electric Co., Ltd.
FOSTEX (Japan)
PAGE 03
G509 ハイエンド有限会社
High-End Ltd.
Duelund Coherent Audio (Denmark) EMM Labs (Canada) Grimm audio (The Netherlands)
Lansche Audio (Germany) Meitner Audio (Canada) Mola-Mola (The Netherlands)
Stealth Audio Cables (USA)
G510 株式会社ディーアンドエムホールディングス(デノン)
D&M Holdings Inc.(Marantz)
audioquest (USA) Bowers & Wilkins (UK) Classé (Canada) marantz (Japan)
G407 アキュフェーズ株式会社
Accuphase Laboratory, Inc.
Accuphase (Japan)
G409 株式会社ゼファン
ZEPHYRN INC.
Aesthetix (USA) BAYZ Audio (Hungary) BOENICKE audio (Switzerland)
CH Precision (Switzerland) Crystal Cable (The Netherlands) HSE SWISS (Switzerland)
MARTEN (Sweden) Ocean Way Audio (USA) Organic Audio (Denmark) VIOLA (USA)
G409 株式会社ステラ
Stella Inc.
ARGENTO AUDIO (Denmark) ARTESANIA AUDIO (Spain) CAD/Computer Audio Design (UK)
Constellation Audio (USA) Graham Engineering (USA) Ocean Way PRO (USA)
Richard Gray's Power Company (USA) STROMTANK (Germany) TechDAS (Japan)
Trinnov Audio (France) VIVID audio (The Republic of South Africa) Wilson Audio (USA)
G410 株式会社ロッキーインターナショナル
ROCKY international, Ltd.
Audio Pro (Sweden) CASTLE (UK) MUSICAL FIDELITY (UK) QUAD (UK) Triangle (France)
Wharfedale (UK)
G401 エイ・アンド・エム株式会社
A&M LIMITED
ACOUSTIC MASTERPIECE (Japan) AIRTIGHT (Japan) critical mass systems (USA)
MOERCH (Denmark) My Sonic (Japan) TRANSROTOR (Germany)
D502 ヨシノトレーディング株式会社
Yoshino Trading Co., Ltd.
Clearaudio (Germany) Diapason (Italy) Duevel (Germany) EAR (UK) FALCON ACOUSTICS (UK)
Kubala – Sosna (USA) Nottingham Analogue Studio (UK) Presence Audio (UK)
Townshend Audio (UK)
HALL D5 アクシス株式会社
AXISS corporation
ayon (Austria) Ayre (USA) bergmann (Denmark) Dan D'Agostino (USA) EXOGAL (USA)
finite elemente (Germany) FM Acoustics (Switzerland) Fyne Audio (Scotland) Grandinote (Italy)
lumenwhite (Austria) MSB TECHNOLOGY (USA) TRANSPARENT (USA)
PAGE 04
D503 株式会社ユキム
Yukimu Corporation
Audio Alchemy (USA) Aura (Japan) AVINITY (Germany) Benz Micro Switzerland (Switzerland) Carot One (Italy)
ELAC (Germany) FLUX HIFI (Germany) inakustik (Germany) MAG-LEV Audio (Slovenia) MoFi Electronics (USA)
ORACLE (Canada) ORPHEUS (Switzerland) SAP (Italy) S.S Laboratories (Japan) Thales Tonarm (Switzerland)
YUKIMU SUPER AUDIO ACCESSORY (Japan)
G408 ラックスマン株式会社
LUXMAN CORPORATION
FOCAL (France) LUXMAN (Japan)
G405 株式会社ナスペック
NASPEC CORPORATION
FIBBR (PRC) Goldring (UK) IsoTek (UK) Kirmuss Audio (USA) Milty (UK)
Monitor Audio (UK) NorStone (France) Playback Designs (USA) PRIMARE (Sweden)
ROKSAN (UK) STORM AUDIO (France) the J1 project (Japan) Vienna Acoustics (Austria)
Wireworld (USA)
G404 株式会社タイムロード
Timelord Ltd.
CHARIO (Italy) CHORD (UK) NODE (UK) PATHOS (Italy)
G402 株式会社ノア
NOAH CORPORATION
acoustical systems (Germany) Alto-Extremo (Germany) AnalogMagik (Canada)
ARGENTUM ACOUSTICS (USA) audio research (USA) Burmester (Germany)
DR. FEICKERT ANALOGUE (Germany) ENIGMAcoustics (USA) KLAUDiO (USA) LABORATORIUM (Italy)
molo (Canada) NITTY GRITTY (USA) Sonus faber (Italy) XLO (USA)
G401 株式会社テクニカル オーディオ デバイセズ ラボラトリーズ
TECHNICAL AUDIO DEVICES LABORATORIES, INC.
TAD (Japan)
G403 株式会社アーク・ジョイア
Ark Gioia, Inc.
Bespoke Audio (UK) DANIEL HERTZ (Switzerland) DE BAER (Switzerland) Estelon (Estonia)
FRANCO SERBLIN (Italy) Jan Allaerts (Belgium) Soulution (Switzerland) Voxativ (Germany)
G503 キソアコースティック株式会社
Kiso Acoustic Co., Ltd.
Kiso Acoustic (Japan) Shizuka (Japan)
epulor ★★★★★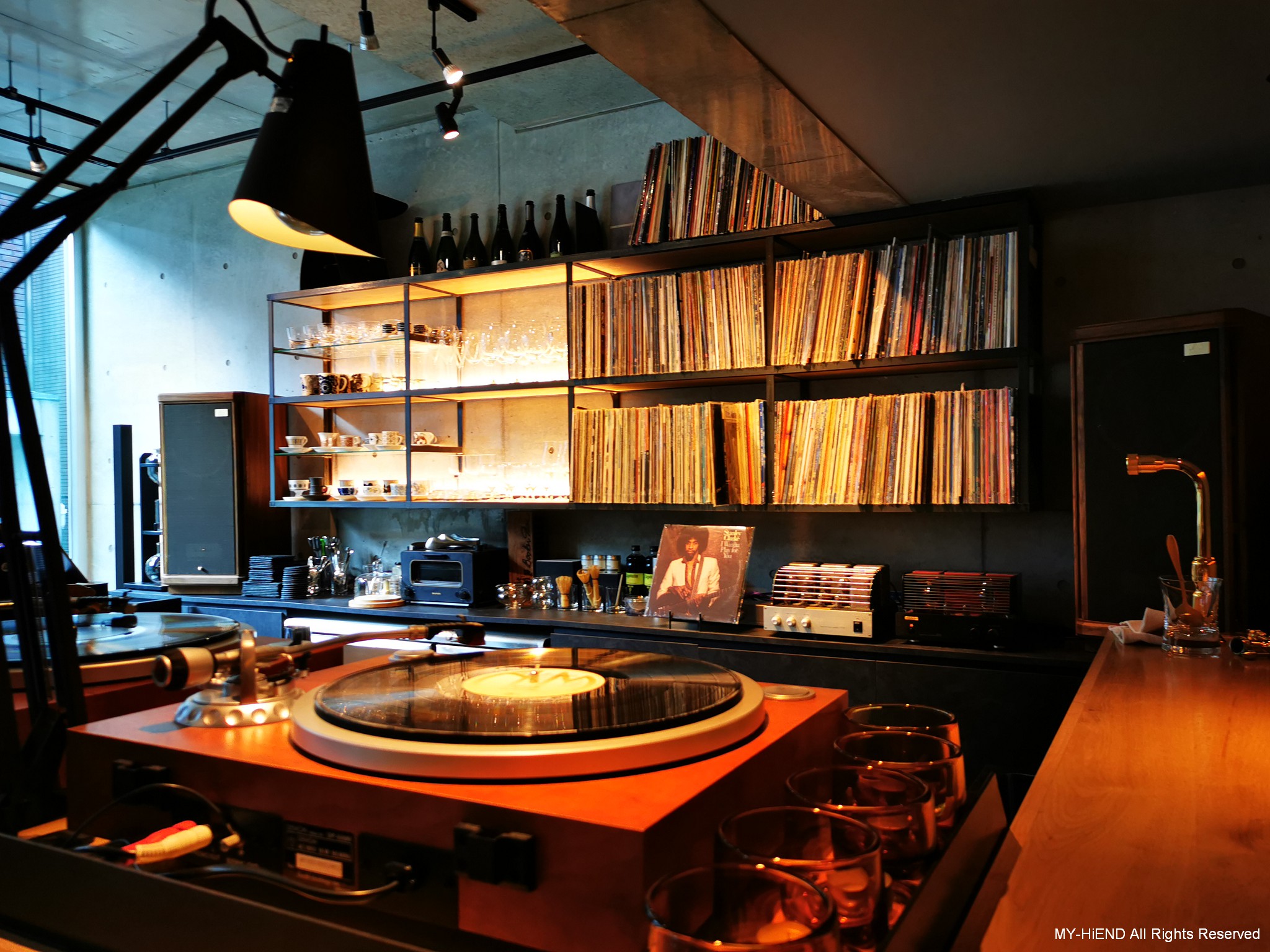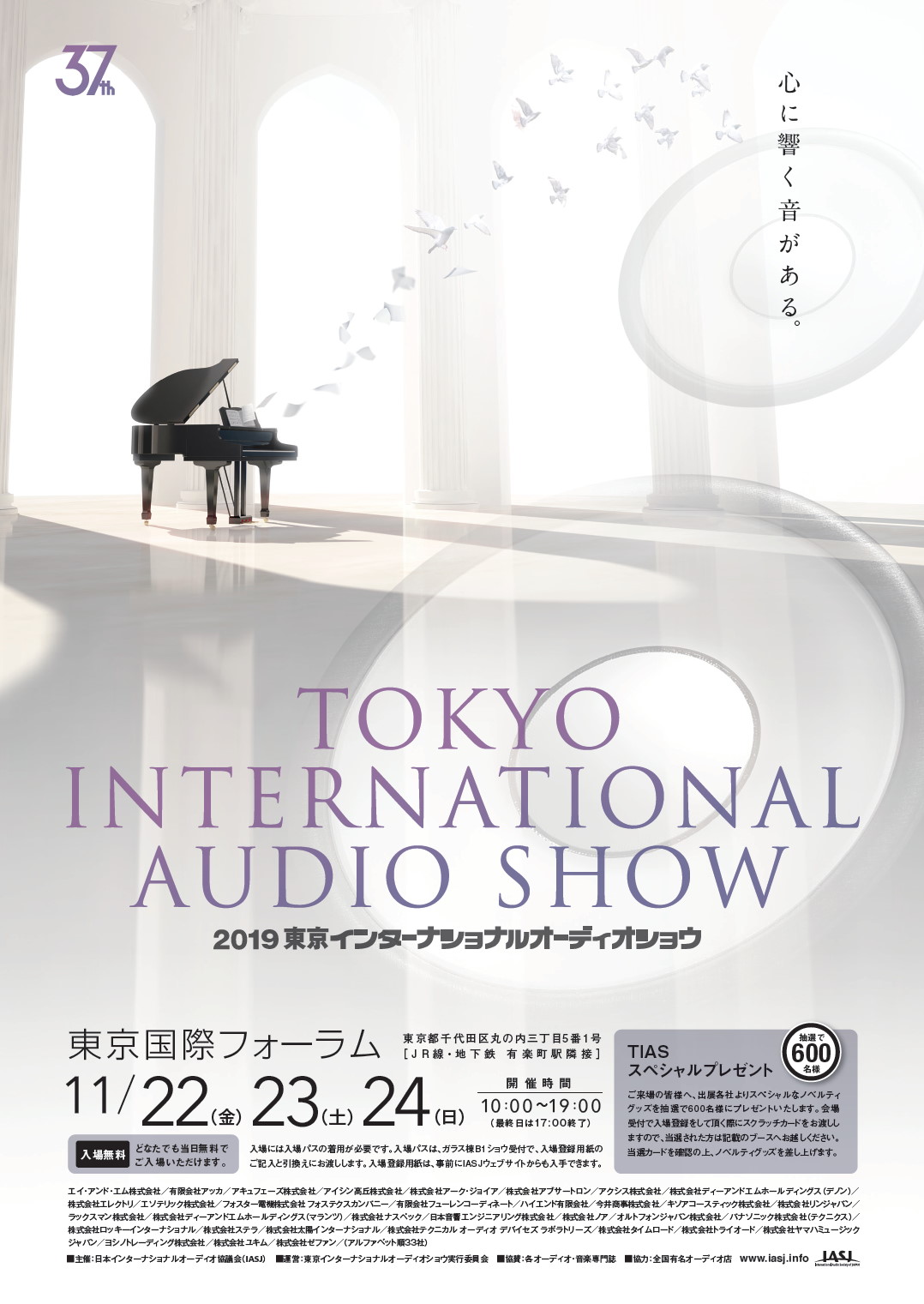 2019東京インターナショナルオーディオショウ
今年で37回目を迎える 2019東京インターナショナルオーディオショウは、11月22日(金)、23日(土)、24日(日)の三日間、東京国際フォーラムで開催いたします。 出展全33社(予定) 海外・国内あわせて200を超える優れたブランドの個性あふれる本格的オーディオ機器だけが持つ魅力を国際フォーラムのくつろいだ雰囲気の中で心ゆくまでお楽しみください。
2019 Tokyo international Audio Show
The International Audio Society of Japan (IASJ,) will be presenting the Tokyo International Audio show from 22nd November through 24th . Rich textured analog music to detailed and spacious sound of digital music will be played in 35 rooms. Each exhibiting room is acoustically sealed providing an ideal listening environment for playback demonstration. The world's top-notch 200 brands will be exhibited, portraying the joy of listening. Please visit the show and feel the superb reproduced music through the high-end consumer audio equipment. You will feel "you are in a live music event".
Time schedule:
22nd Nov.(Fri)10:00 ~ 19:00
23rd Nov.(Sat)10:00 ~ 19:00
24th Nov.(Sun)10:00 ~ 17:00
The show is located at: Tokyo International Forum, 3-5-1 Marunouchi, Chiyoda-ku, Tokyo
Access: by rail: within walking distance from Yurakucho station (Tokyo Metro and Japan Railway) or Tokyo central station (Tokyo Metro or JR)
Exhibitors: 33 distributors and manufacturers represent 205 brands
About the Tokyo International Audio Show
The show started 1983 as the " Import Audio Show" to introduce cutting edge audio technologies and the joy of listening music through such high-end audio equipment. Since 1997 the show has been located at the Tokyo International Forum; it is an annual event. The number of visitors during the show's 3 day period is over 10,000. Analog players to hi-res file music will be demonstrated in acoustically ideal listening environment. Listeners will enjoy quality music in a cozy environment, played on affordable high-end to flagship equipment rarely seen at stores.
Events Exhibitors are planning to have seminars by audio reviewers or engineers in their own exhibit rooms.
Please refer to official site of IASJ, www.iasj.info.
Exhibitors: (for details and brands, please visit:info.iasj.www)
About the International Audio Society of Japan (IASJ)
IASJ is a private organization for the purpose of introducing and promoting world class audio equipment. It originated in 1983 as " Society of Consumer Audio Distributors", and reorganized in 1997 with the current members. 33 distributors and manufacturers incorporated in Japan are the members of IASJ. The show is managed by a task force group of the members.
Cosponsors Stereo Sound Inc., Ongaku no Tomo, Ongen shuppan Co., Ltd., Seibundo Shinko sha, IA press, Ongaku shuppan, Sankei news Co., Ltd, Makino shuppan Publications and software are sold at the entrance lobby floor (B1)
Support Audio Dealers in Japan
展覽官網
http://www.iasj.info
2015年TIAS東京國際音響展回顧
2014年TIAS東京國際音響展回顧
2014年TIAS東京國際音響展回顧
2012年TIAS東京國際音響展回顧
2011年TIAS東京國際音響展回顧
2010年TIAS東京國際音響展回顧
2009年TIAS東京國際音響展回顧
2008年TIAS東京國際音響展回顧